Greetings, Captains! You can configure controls and other settings in the PC client as follows:

1. Run the client and click the AiPhone in the lower right area of the Bridge screen.
2. Click the gear to enter Settings.
3. Click the "Controls" option on the right to configure controls.
4. Click the "Assist" option on the right to adjust camera and virtual mouse sensitivity.
5. Click the "Video" option to configure settings, toggle fullscreen/window mode, and change resolution.

Captains can now download the PC client on our official site! Click the "DOWNLOAD" button and select "Play it on PC-Honkai Impact 3" to download the installer~


If you encounter any issues when running the client, please contact our customer support team for assistance.


======Other Technical Issues======
We have received feedback on technical issues after launching the PC client, and Ai-chan will answer them in today's episode on behalf of the HQ!

⭐Security Pop-up
If a pop-up window with a numerical title appears when the client is running, please check for any mutually exclusive software that is running at the same time, e.g. other games, virtual machines, antivirus software, and steam.


⭐Cannot Launch Game
Please check if you are using a preview release of Windows. Press the Windows Key + R to open the [Run] run dialog box and enter [winver] to find out. The PC client of HI3 does not currently support Windows preview releases.


⭐Error Pop-ups
If you encounter the following pop-up windows, please send your output_log.txt to our customer support by email as an attachment.
honkai3rd_asia@mihoyo.com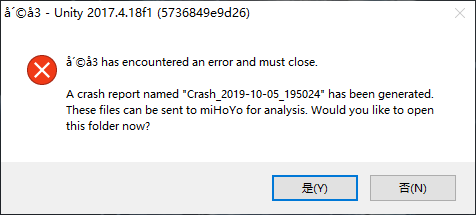 You can find "output_log.txt" at C:\Users\xxx (Computer Name)\AppData\LocalLow\miHoYo\Honkai Impact 3\output_log.txt


⭐Cinematics Missing Subtitles
Please ensure all resources have been properly downloaded. If cinematic subtitles are still missing, please proceed to the installation directory: Honkai Impact 3\Games\BH3_Data\StreamingAssets\Video and decompress all compressed files. You may also fix this issue by clicking the upper-left personal info screen and then the bottom CG screen to auto-decompress all downloaded cinematic subtitle files.



Customer Support:
English: honkai3rd_asia@mihoyo.com
Chinese: honkai3rdcn_asia@mihoyo.com
Thai: honkai3rdth_asia@mihoyo.com
Vietnamese: honkai3rdvn_asia@mihoyo.com
Indonesian: honkai3rdid_asia@mihoyo.com